Welcome
How to Master Back-to-School Time
Now that summer is over, it's time to get back to school and back on schedule. With classes and homework and extracurricular activities, it may seem like there's never enough time to get everything done. If you sometimes feel like you're running on empty, here are some tips to help manage your time and organize your life.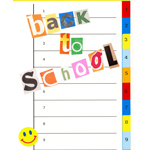 Create a schedule. Use a calendar or planner to schedule all the things you do each week. Fill it in with time for school, traveling to and from school, homework, meals, chores, and after-school activities.
Make a daily "to-do" list. Decide which are the most important or difficult things and put them at the top. Do them first. That way if you get tired, you've already completed the hard stuff. And be sure to check items off your list so you can reward yourself when you accomplish them.
Use your homework time wisely. Set aside about an hour a day to work in a quiet, well-lit study spot. Have all your supplies on hand so you don't have to waste time looking for them. It's also smart to finish one assignment before you start the next — and take a break in between.
Got some spare time? If you can get reading or studying done whenever you have a few extra minutes — like when you're riding on the bus home from school — you'll be making super-efficient use of your time!
Get enough sleep. Go to bed at about the same time each night. At your age, you need about nine hours of sleep each night to get enough rest to keep your energy level up and your mind sharp.